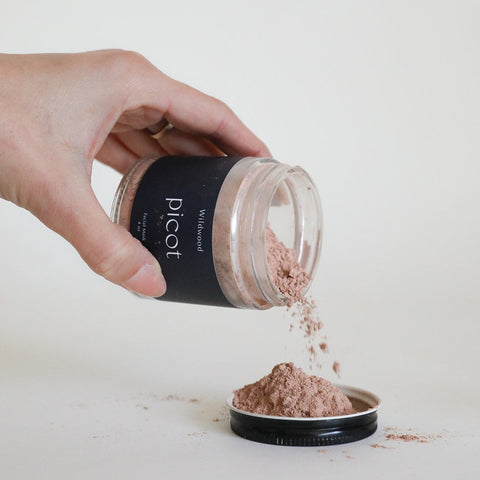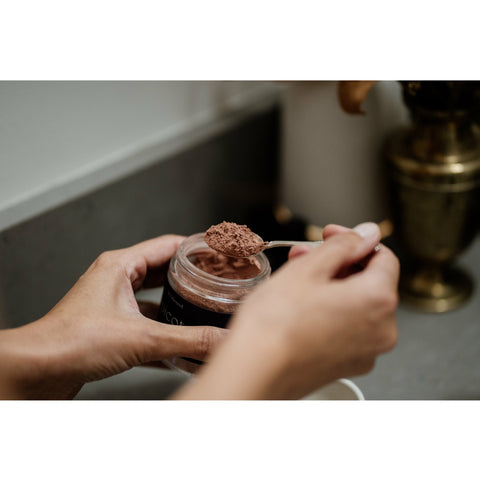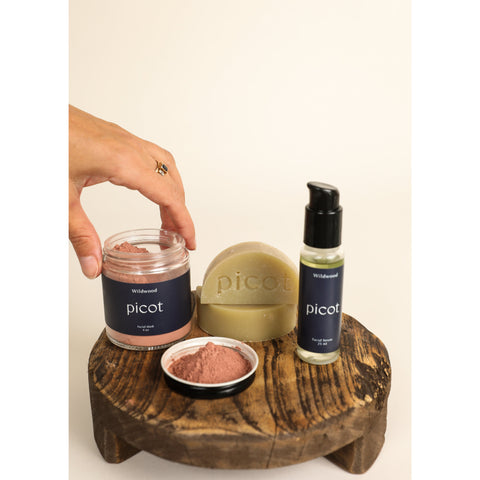 Wildwood Exfoliating Facial Scrub + Mask
Checking local pickup availability
Show more
Part of our skincare bundle, our face mask is meant to gently exfoliate, brighten, and tighten the delicate skin on your face. Rhassoul clay is rich in magnesium and potassium. Anecdotally, many skincare gurus swear that magnesium can be absorbed through your skin barrier to fight acne, cleanse impurities, and improve skin elasticity.

As a Mask:
Add equal parts mask and water or witch hazel. Mix to form a paste and apply to skin, avoiding eyes and lips. Wait until dry & rinse with a washcloth  to remove **

As an Exfoliant Scrub: For a deeper cleanse, massage into skin and rinse with warm water before drying. Follow up with your favourite toner (we love witch hazel) and our Wildwood Facial Serum. 
**We recommend testing a small patch of skin first before applying it to your entire face.

Ingredients: rhassoul clay, French pink clay, French green clay, ground pumice. Essential oils: benzoin, black spruce, ho wood, fir, blue tansy, turmeric CO2, vetiver, fir CO2

This is my first time using this and an exfoliating product in general. Verdict? LOVE IT. My skin felt so soft, clean, and you can feel it working. It smells SO GOOD. I love how everything from PICOT is so intentional and a little goes a long way! I look forward to my routine.
Thoroughly enjoy this
I've started exfoliating 1x week now and I have to say that I am really enjoying it. My skin is brighter after using this, and I love how it feels tighter, too. I wish I started using products like this earlier in life.
Love my new skin care routine.
This mask is so energizing. The woodsy smell is refreshing and unlike other clay masks I have used before it washes off very easily. I want to use it everyday!
Favourite face mask
I absolutely love the face mask. I prefer powdered masks because they don't dry up before you use it all. I use it once a week with the facial serum and facial bar and my skin has never been happier.
Nice surprise
At first I was unsure of the product as it requires mixing with water and seemed a bit messy. The mask however is worth it. It leaves my complexion brighter, pores smaller and I swear it makes me look well rested, even when I'm not. Love love love it!
Skin so smooooth
This gentle exfoliating mask leaves your skin feeling smooth, radiant and nourished. I really look forward to the evenings that I spend in the tub with this face mask on!
L O V E
I'm new to using a facial mask regularly. I used to only associate them with slumber parties as a teenage. Now in my mid thirties, tying my hair back and applying this mask is something I look forward to. It's actually really cool to feel it tighten around my skin and it washes off really easily. Because of the colour, I recommend using a dark face cloth to gently rinse/ wipe off. I bought this with the Wildwood Facial Serum too and it feels really good to rub in after. I've been using both for about a month now and I can honestly say that there's a noticeable difference in my skin!