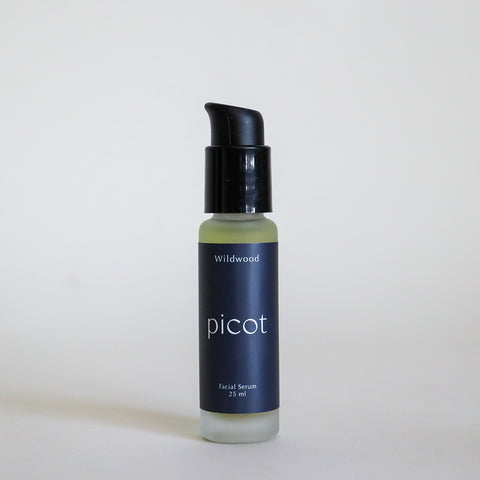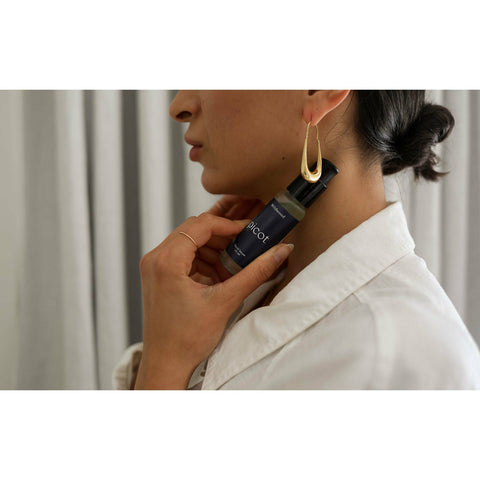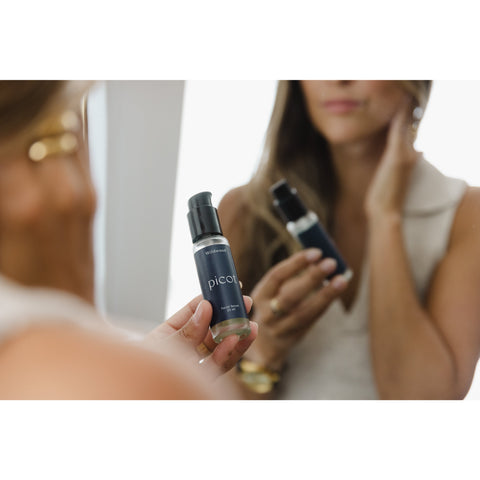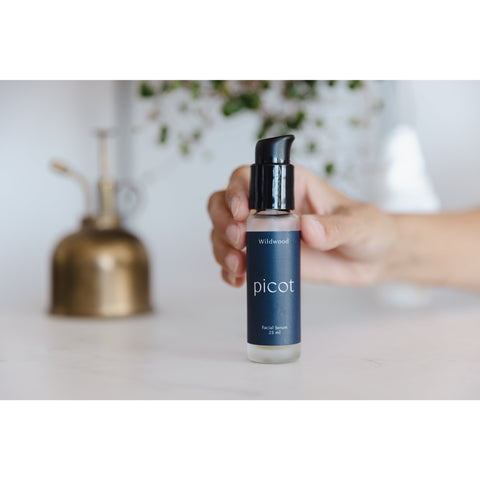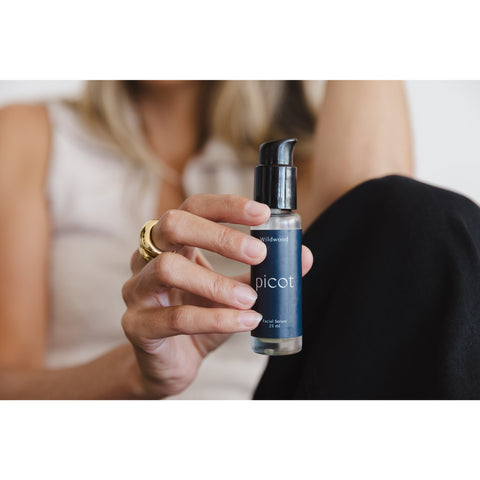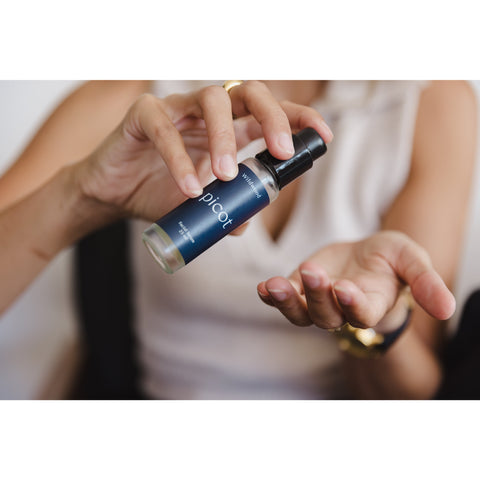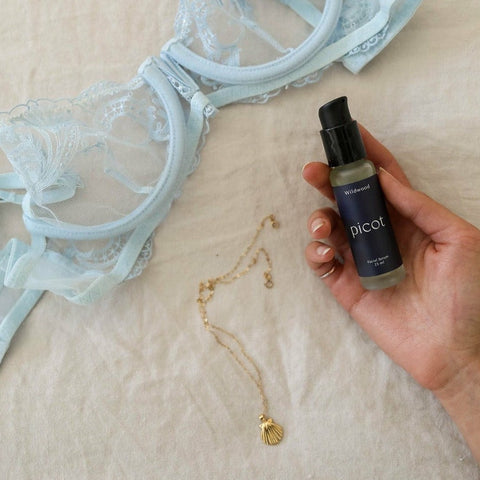 Wildwood Facial Serum
Checking local pickup availability
Show more
The Wildwood Facial Serum gives you glowing and smooth skin with a 100% natural and gender-neutral scent. The benefits of our organic and natural ingredients are regenerating, smoothing, and hydrating at any age to leave you with glowing skin.

Smells like:

Walking through the lush woods in BC, refined for the allure of a personal scent that is musky and woodsy without being overpowering. 
Ideal for:
reducing inflammation

smoothing fine lines

brightening skin appearance

dry or maturing skin
men enjoy this as a beard oil, too

Rejuvenating Ingredients and Benefits
Camellia oil: 

 

reduces the signs of aging, hydrating, easily absorbed

Argan oil:

 

moisturizing for dry and mature skin
Pomegranate seed oil:

 

 

nourishes dry skin, leaving it soft and smooth

Black currant extract: 

 

repairs tissue damage, prevents signs of premature aging like fine lines and wrinkles

Acai berry extract: 

 

reduce the appearance of fine lines and wrinkles, help prevent environmental skin damage

Evening primrose oil:

 

anti-aging, moisturizing for dry/irritated skin
Squalane: 

protects against environmental elements like uv radiation and pollution. Beneficial for all skin types, moisturizing, enhances skin elasticity, smoother and softer skin

Black Spruce: 

 

 

soothes muscle aches and pains, poor circulation, respiratory weakness, acne, and eczema. Revitalizing

Fir:

 

 

muscular aches and pains. Eases stress & anxiety

Benzoin: 

 

 

calms skin inflammation, antiseptic, astringent, heals wounds, dryness, and itching. Comforting

Ho wood: 

 

 

tissue regenerator, anti-aging, indicated for dry/sensitive/inflamed skin. Balancing

Turmeric co2:

 

 

heals bruises, anti-inflammatory

Blue Tansy: 

 

 

anti-inflammatory, may ease allergy symptoms, troubling irritated skin

Vetiver: 

muscle pain, arthritis, strengthens the skin, helpful in preventing fine lines/wrinkles, 

acne. Grounding

Rosemary extract:

 

antioxidant, stabilizes shelf life
Ingredients: camellia oil, argan oil, pomegranate seed oil, blackcurrant extract, acai berry extract, evening primrose oil, squalane, essential oils: benzoin, black spruce, ho wood, fir, blue tansy, turmeric CO2, vetiver, fir CO2, rosemary extract 

Application suggestions:
Evening use: Applying this serum after washing the day away has become a favourite and welcomed ritual. It sets the stage to wake up with smooth, soft skin after cleansing.

Day use: Apply after washing your face for dewy, glowing skin. 

To use as a men's beard oil: rub 1-2 pumps of serum into your palms and then apply to your beard, massaging into the skin below your beard.

★

★

★

★

★ 

"The beard oil not only smelled amazing but it gave my beard a nice shine. The scent is mild but unmistakably west coast!"
Specifications: 
25ml, frosted glass jar with black pump
This, I've tried before and I had to get it again. I use this after cleaning my face AND beard. It smells so good and I can smell it on me throughout the day. I love it, my skin loves it, and my beard loves it.
Heavenly
I've loved the honey tobacco for awhile and was a little hesitant to try the other scents but I shouldn't have waited. They nailed this. It's so grounding to start my day with. And I love the weight of it. Not to heavy, not too light. Perfect for me!
My face and beard love this! It's very gentle and smells good. It leaves my skin moisturizer and happy after cleaning it and exfoliating. You have to take care of yourself and I feel like PICOT products help do just that :)
I love Picot.
I currently have the roll on, body butter & serum. I am about to order a candle.
Thanks for creating this awesome scent. I hopped into my friend's car & she immediately asked what was I wearing. She ordered the roll on right away.
The smell…
I can't get enough of this scent! The serum feels hydrating without feeling greasy or sticky. I'm hoping the ingredients are doing lovely things for my skin but honestly I'll keep buying it just for the smell.
Great serum
I've only just started using this serum, but I can tell immediately what a great product this is. Perfectly hydrating for dry skin!
delicious scent
this serum feels and smells great as i apply it. the woodsy aroma encourages me to inhale deeply and relax and feel like i am taking care of me. i think my skin likes it too : )
Great product
This facial oil is wonderful, light yet deeply moisturizing for my dry skin.
Love my new skin care routine.
Great smell and leaves my skin feeling soft and hydrated all day!
Mmm face oil
I used the face oil for the first time last night… the smell, the feel, absolutely dreamy 🤌🏽☁️
now defusing wildwood so my whole house smells like my face