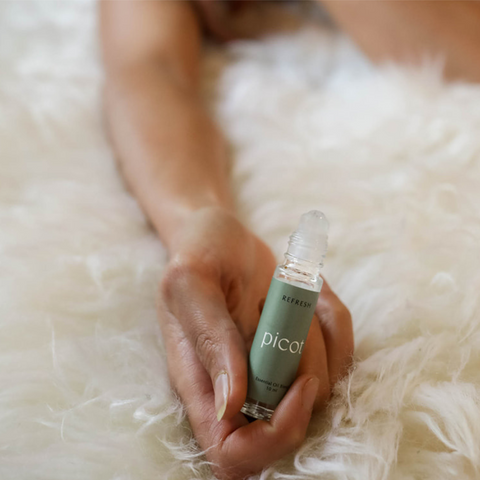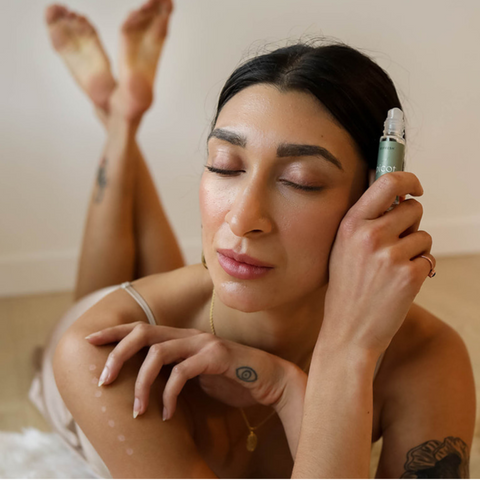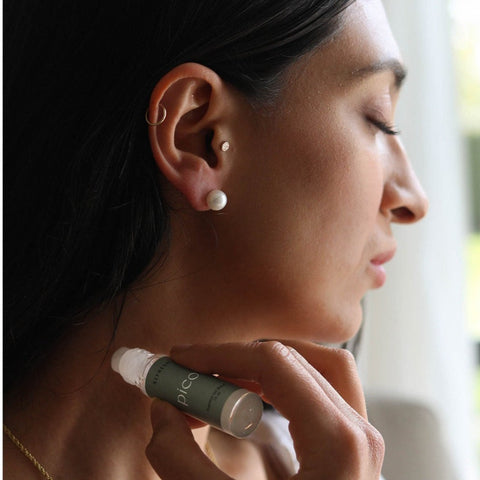 Refresh Aromatherapy Roller
Checking local pickup availability
Show more
Use this for headaches, body aches, relieve its from bug bites, to uplift your mood and many more benefits listed below. Simply roll onto the affected area and breathe in deeply.
Some of the benefits that this blend of essential oils are:
Blood Orange:

uplifting, ease nervous tension, relieve inflammation, commonly used to your mood

Peppermint: r

elief from nausea, headaches, respiratory infections,  ease muscle pain, reduce itching

Eucalyptus:

immune boosting, supports the respiratory system, enhances the feeling of relaxation
Ingredients: MCT oil (medium-chain triglyceride), blood orange essential oil (citrus x cinenis), peppermint essential oil (mentha piperita), eucalyptus essential oil (eucalyptus radiata). 
10ml.

Please note that this is not intended to cure illness.
I love the fresh scent. Super comforting and soothing.
A Breath of Fresh Air
This little gem has become a staple in my daily self-care routine. First and foremost, the scent of this aromatherapy roller is simply heavenly. The combination of zesty citrus notes, crisp peppermint, and a hint of eucalyptus creates an invigorating and uplifting aroma that instantly awakens my senses. Whether I am feeling tired, stressed, or just in need of a pick-me-up, a few swipes of this roller on my pulse points, temples, or wrists is all it takes to experience an immediate mood boost.
The rollerball applicator is not only convenient but also ensures that I can apply the oil precisely where I want it without any mess. The oil itself is lightweight and absorbs quickly into the skin, leaving no greasy residue behind.
Moreover, the ingredients are all-natural, and I appreciate the commitment to quality and purity. It's also cruelty-free, which aligns with my values as a conscious consumer.
Great pick me up!
Very subtle and calming aromatherapy. I love to have it as part of my Picot Collection.
Delightful!
A gift for a friend, she said that it has become a part of her bedtime ritual and loves it!
Refresh Aromatherapy Roller
Fabulous roller
I love this roller so much, the scents are both uplifting and soothing. It comes in so handy for headaches and bug bites and has become a staple for us!
Aromatherapy
I just love the smell & it brings a pep to my step when I apply the scent
Lovely scents!
Enjoyed all products thoroughly! Especially loved candle and rose quartz roll-on scent. Beautiful packaging!!
Product Loyalty
I keep the Refresh Aromatherapy Roller in my bag at all time. It is perfect in the midst of a busy work day, running errands, or just plain life, giving myself a moment to to apply to my temples and take a good breath in.
Love the scent! Subtle and relaxing
Have to find out if this scent comes in a candle too?