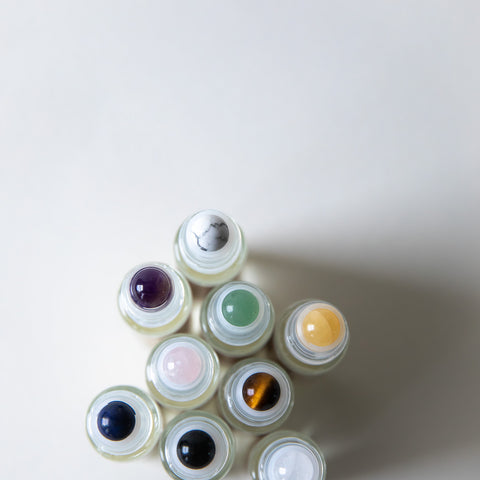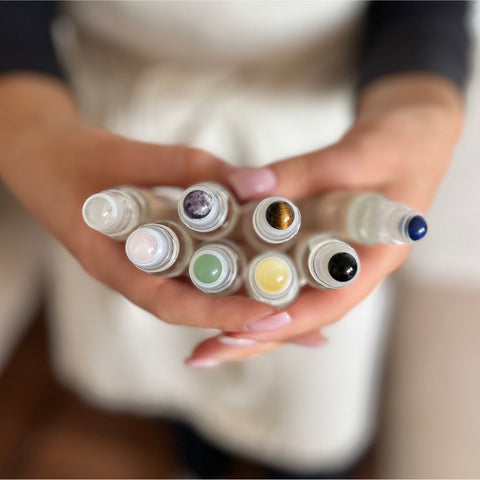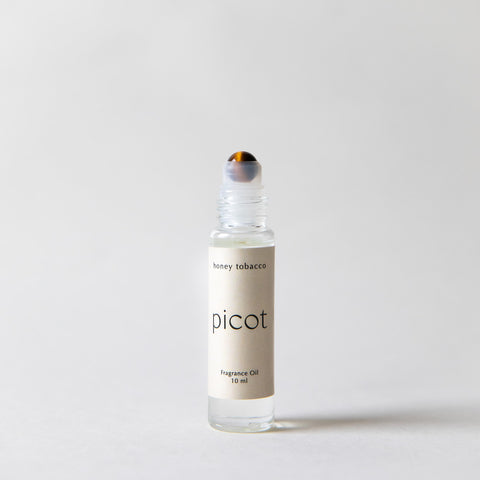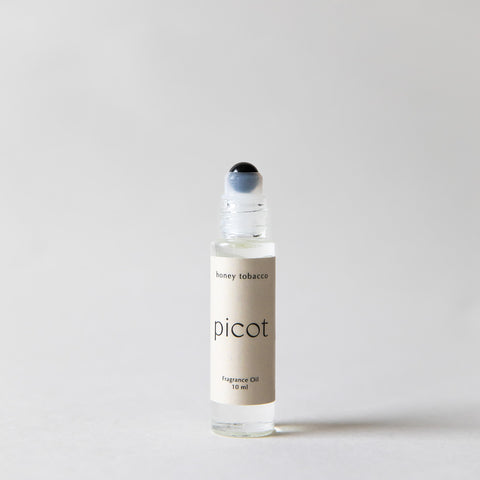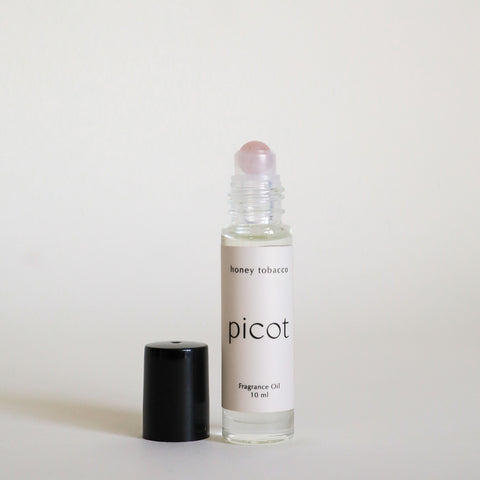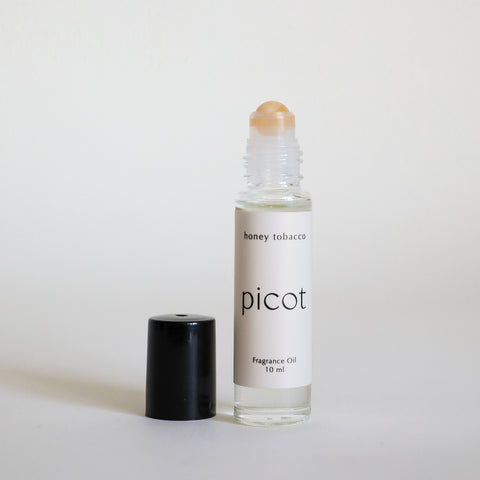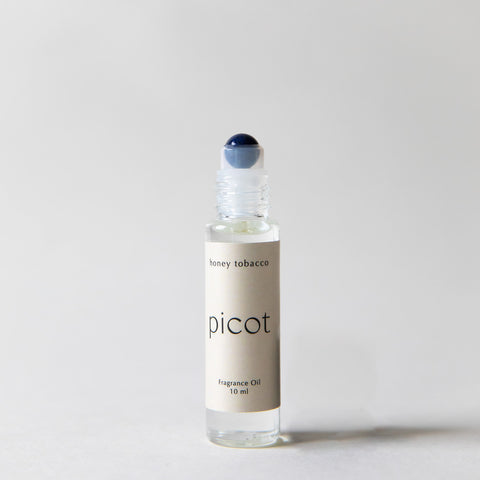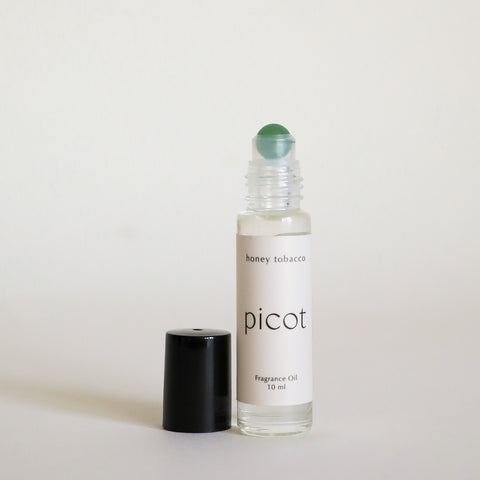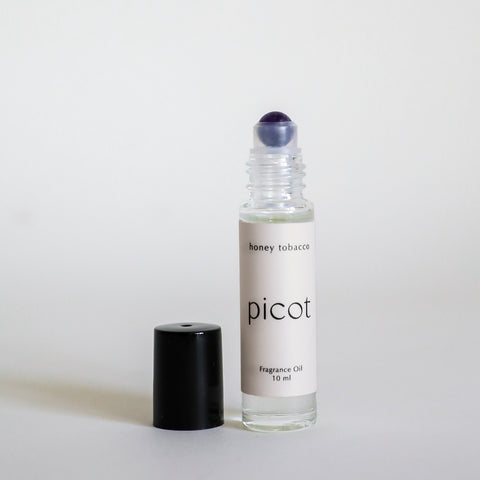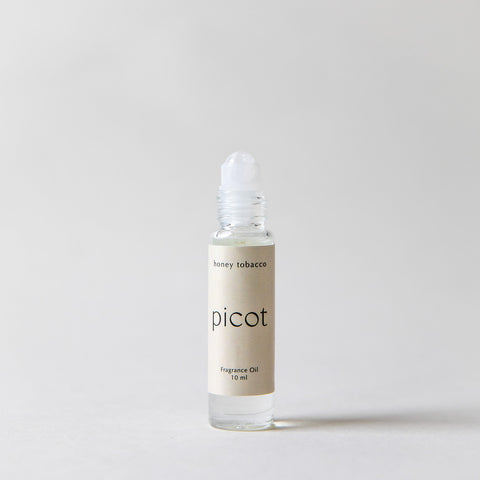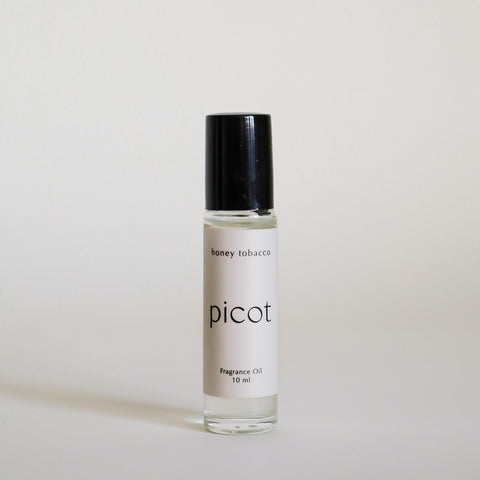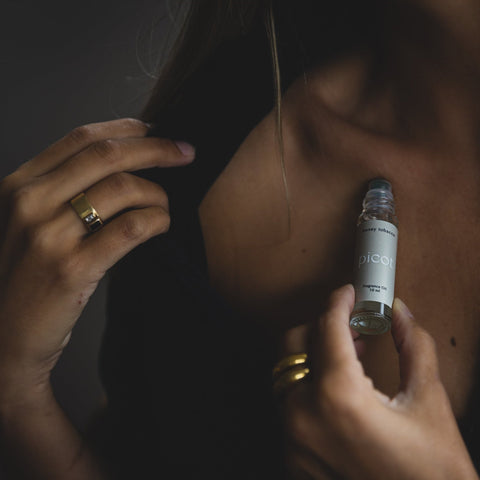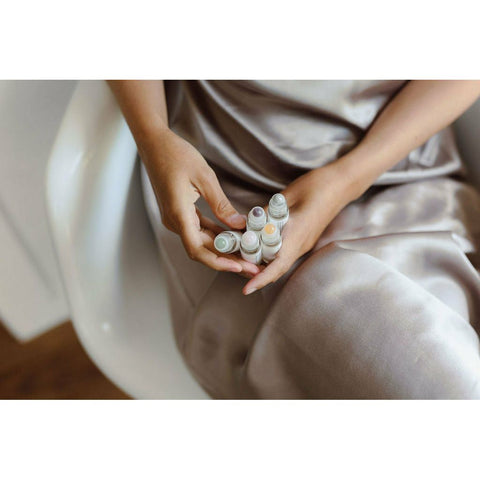 Honey Tobacco Fragrance Roller
Checking local pickup availability
Show more
Our Honey Tobacco Fragrance Roller has 8 different natural stone rollerballs for you to choose from. Each represents a mind state essential to well-being. We all know that scent can evoke memory, so these natural stone rollerballs become a tool for mindfulness with our Honey Tobacco scent.
Learn about each stone below or in this blog post. 
Scent Strength: 2/5
Lighter than the Mist, Body Butter and eau de parfum
Doesn't over-power a room
Scented for you and whoever you hold close
About the Stones
Rose Quartz | pale pink: 

represents compassion, nourishment, forgiveness + peace. 

Remember: relieving stress, grief, comparison, and other difficult emotions helps to create space for loving yourself and others
Amethyst | deep violet: a reminder to bring a sense of calm and clarity to your life. 

Consider it a tool for mindfulness: tap into your intuition and reveal your own insightful solutions to roadblocks

 

and changing perspective
Obsidian | black as night: an anchor for scattered energies. 

Find your ground and release emotional blockages. Let it absorb any negative vibes, creating space for protected and stable energy
Tiger's Eye | golden amber:  considered to dispel self-doubt, build self-confidence, and nurture courage. 

Use it as a guide to tap into your inner strength, maintain your grounding, and stay centred amidst life's chaos
Sodalite | royal blue: 

 

use as an encouragement to assert your voice and step into your power.

 

In moments when words elude you, use this to strengthen your self-expression
Clear Quartz | translucent: 

 

a humble yet radiant keepsake of your intentions and manifestations.

 

Use it as a tool to dispel negativity and cleanse your energy when needed.
White Howlite: 

represents

 

stillness, tenderness, and an open mind

.

 

Use it as a reminder to reduce stress and anger; a means of tempering a storm and allowing for patience 

and perspective to lead. (LIMITED STOCK)
Green Aventurine: 

can remind 

you to move through life's changes with confidence and trust.

 

Remember: freeing up stuck energy and shifting forward with clarity is integral to personal growth 

 

(LIMITED STOCK)
Orange Calcite:  

a reminder to bring vitality to your passions. By inviting joy and creativity, healing will follow. 

Leave behind what no longer serves you and move forward with playfulness & confidence 

 

(LIMITED STOCK)
Great combo!
I love the picot scent. This combo made perfect sense for me… parfum for home and a roller for my purse. Tada! Perfect.
Better Than Ever
I've been using the honey tobacco roller for YEARS and somehow the one I just bought was better than ever. Maybe the roller ball was slightly different, or maybe I had simply been missing my favourite scent. Either way, it remains the best!
So so good!
This scent is delicious, and wears so well throughout the day! I'll definitely be trying all the other honey tobacco products.
Delish
Obsessed with this scent, I get lots of compliments as well.
Picot Collective makes incredibly high quality goods. The honey tobacco scent is addicting, cozy and opulent. I first got it as the body butter, and loved it, so I ordered the EDP, bath soak, and mist. My wife loves this scent too! I haven't smelled anything quite like it. Also, the products react well to my sensitive skin. Awesome company!
Amazing!
Great smell, and lasted for most of the day !
Amazing scent
Impressed with the amazing depth of this scent ! Great buy
Amazing products
I had discovered Picot on a recent trip to Vancouver Island this year, and have ordered the Honey Tobacco roll-on, spray and body butter a couple times since. I am so addicted to this beautiful scent! High quality, and great to order online with. Packed for shipping carefully and done well. Highly recommend Picot to anyone!
LOVE IT!
This roller is something Im looking forward to every morning,I never want to be without it!