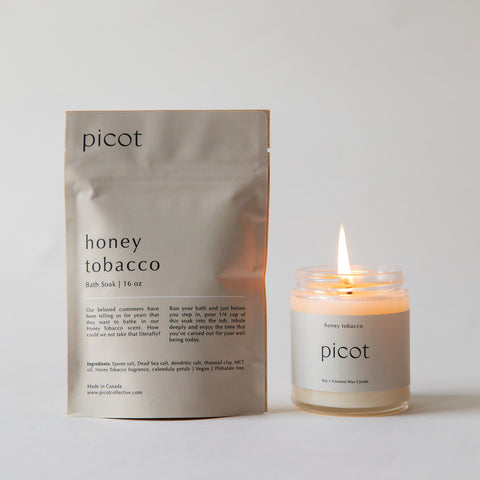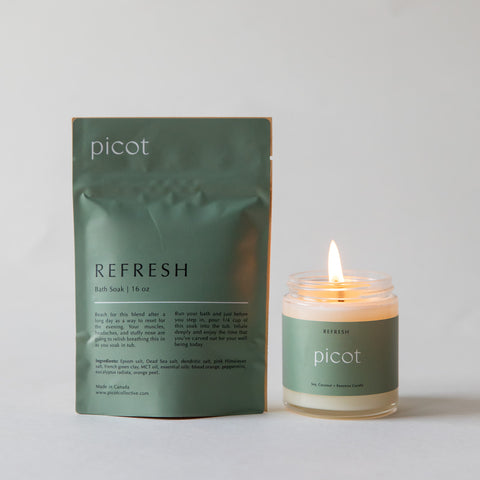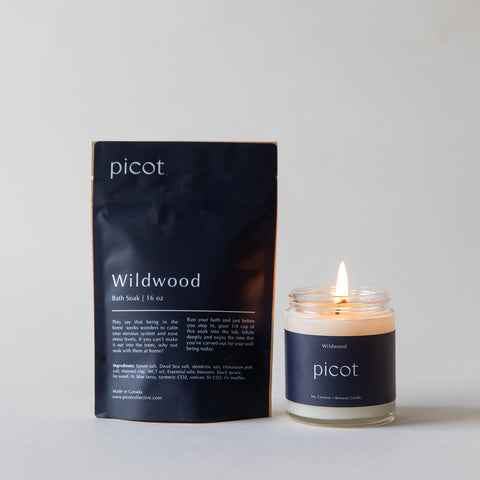 Bath Soak + Candle Gift Set
Checking local pickup availability
Show more
The gift of personal down time, scented to perfection with ambient lighting. Snacks and Netflix not included. 
- 1x 4oz Candl + 1x 4oz Bath Soak
OR
- 1x 8oz Candle + 1x 16oz Bath Soak

A little more about each scent:

1- Honey Tobacco is our classic scent that is reminiscent of honey, men's cologne and vanilla undertones.
Sensual | Alluring | Cozy

2- Refresh Smells like: stepping into the spa, a wave of feeling calm and present washes over you, and immediately you feel uplifted and more at ease with an inhale of mint, orange, and eucalyptus. 
Fresh | Uplifting | Soothing


3- Wildwood This blend was created for our love of walking in the woods and the feeling of being rejuvenated for doing it. We can't always get out there so we wove it into the products that have daily rituals.
Calming | Grounding | Warm
Bath Soak Gift Set
All 3 scents are amazing! The hardest part will be parting with these as I want to keep them for myself.
Perfect for Christmas!
These sizes are great for gifts. Smell amazing too, obviously!
I love all three!!!
Honey Tobacco has been a favorite of mine, but I truly love all three!
Love The Gift Sets!
As always I love everything Honey Tobacco and was so happy to see the gift set with a mini candle and bath soak! A perfect little holiday gift or stocking stuffer!
Great gift 🎁
This is going to be a great Christmas gift
Perfect Gift
It really is the perfect gift. The candle size is just right for a stocking stuffer!
Liking it so far
I've burned the candle three times so far. My biggest concern, and the reason I paid nearly 50$ for a rather small candle, is to avoid candle soot. I haven't noticed any yet so I'm pleased with that! It smells nice but it's very subtle. It doesn't scent the air.
I like it but given that it's small and the scent is not noticeable, I would not repurchase at this price.
Lovely!
Beautiful products- body butter, candle and soap! Lovely rich quality and scent- no guilt ordering from a eco friendly Canadian company! Great service and great start to my Christmas shopping - may have found a few items for my wish list too!
Favourite candle ever
This is my absolutely favourite candle! It smells so good. I get compliments about how nice my place smells all of the time - thank you candle lol!