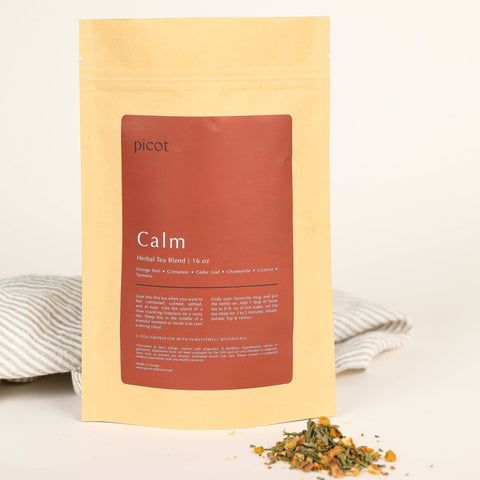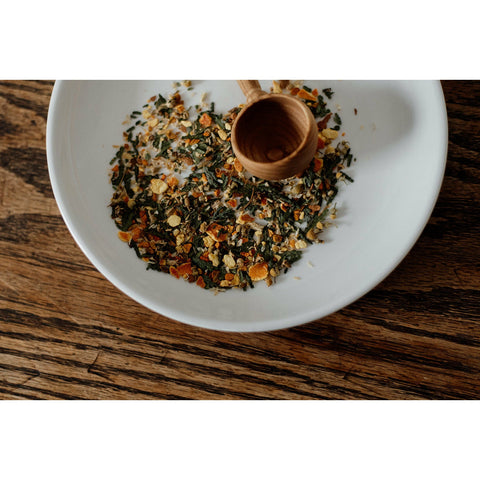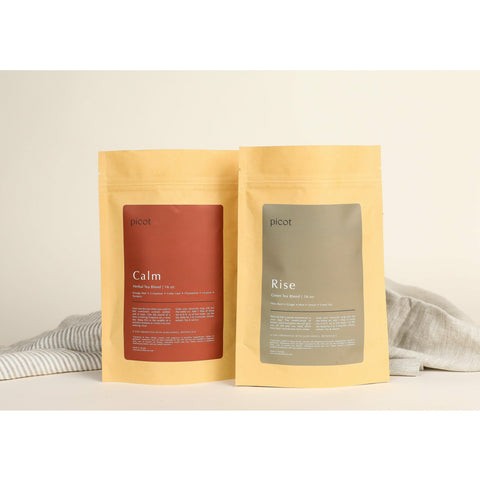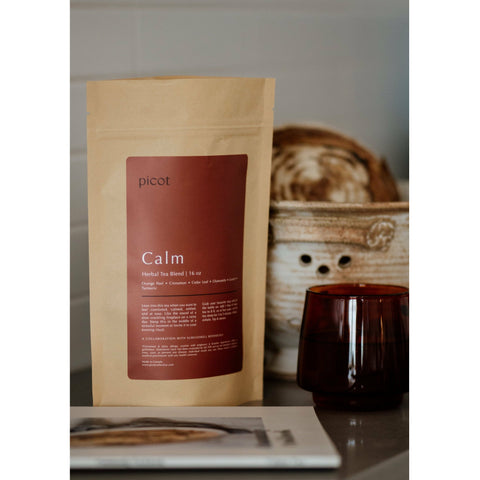 Calm: Herbal Tea Blend
Checking local pickup availability
Show more
Calm, the herbal tea for anxiety and evening routines. We love to drink this herbal tea to sleep better at night. This calming tea blend is meant to soothe your nerves as you wind down at night. Our tea is designed by a herbalist and is meant for daily wellness routines.  Grab your favorite mug, boil some hot water, and steep this blend during a stressful moment, or invite it into your evening ritual.

Support your well-being and invite a sense of ease with our Calm Herbal Blend Tea. 
16oz About 35 tbsp of tea
Tasting Notes
Sweet cinnamon and orange
Ingredients
orange peel - Citrus X sinensis
cinnamon - Cinnamomum spp.
cedar leaf - Thuja occidentalis
chamomile - Matricaria recutita
licorice - Glycyrrhiza glabra
turmeric - Curcuma longa
*cinnamon and daisy allergy, caution with pregnancy and lactation, hypertension, edema or gallstones. Statements have not been evaluated by the FDA and are not intended to diagnose, treat, cure, or prevent any disease. Individual results may vary, please consult a competent medical practitioner with any health concerns. 
Blended for Picot Collective by Survivewell Teas in Sooke, British Columbia.
Another new favourite product!
I fell in love with the fragrance line, Honey Tobacco, and now I can unwind with a cup of the Calm tea while I soak in my Honey Tobacco filled tub!
Love the sweet aftertaste
It's a very unique tea blend with complicated but soft flavours. With each sip you will definitely taste different herbs over the time, and it always leaves on a subtle and natural sweet note. A must have for relaxing times!
So Comforting
This tea is perfect for winding down at the end of the day. It has amazing depth... I'm hooked.
Not my favourite
I initially picked this one up to qualify for free shipping but there's something in there that doesn't sit right with me. I was excited to try it but I should have gone with something else.
In. Love. With. This!
I LOVE this tea blend. I actually just started drinking tea not long ago, and I find Calm to be the perfect balance of flavours. It's delicious as an iced beverage, too!
Another product I love from Picot
Already a hooked client with the honey tobacco crystal roller - and decided to try the hand sanitizer and the Calm tea- loving it! Thx Britt
Phenomenal Tea
After years of working in the outdoor industry, I have been searching for the perfect tea with cedar in it. This tea is amazing - very unique and well balanced flavour profile, earthy and sweet! I can't wait to have more in my cupboard for the winter :)