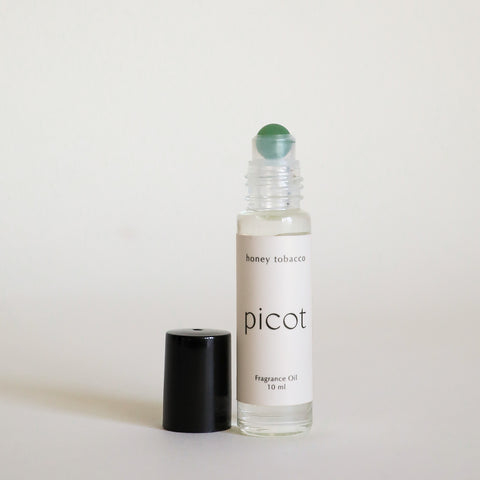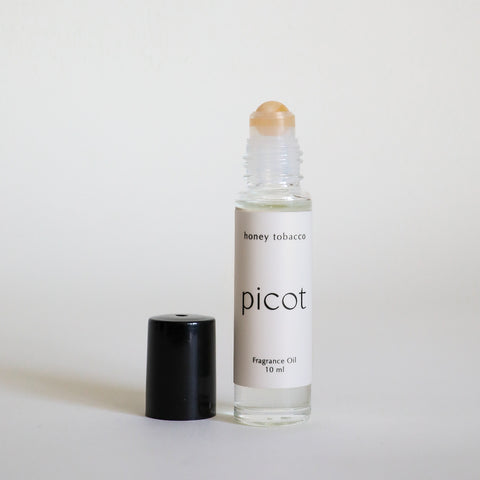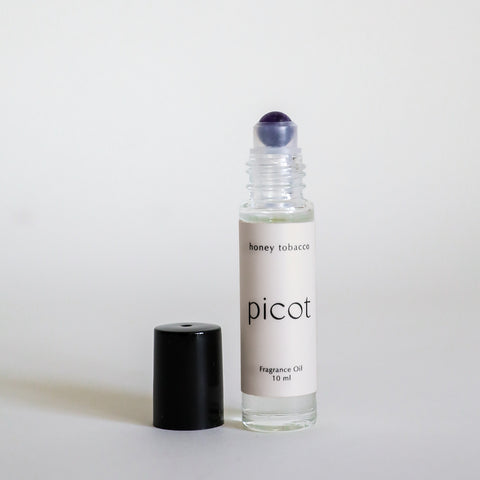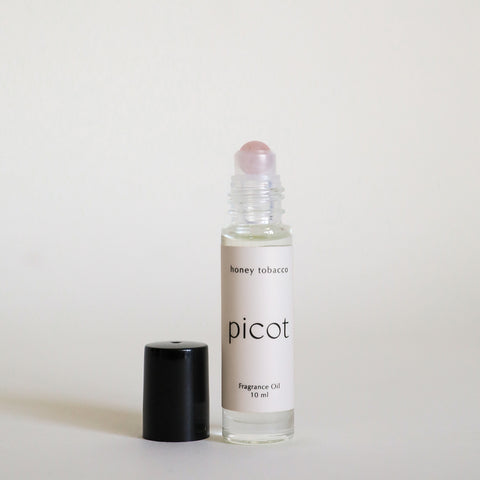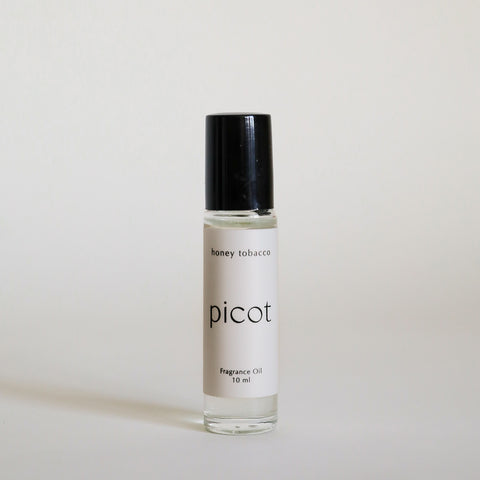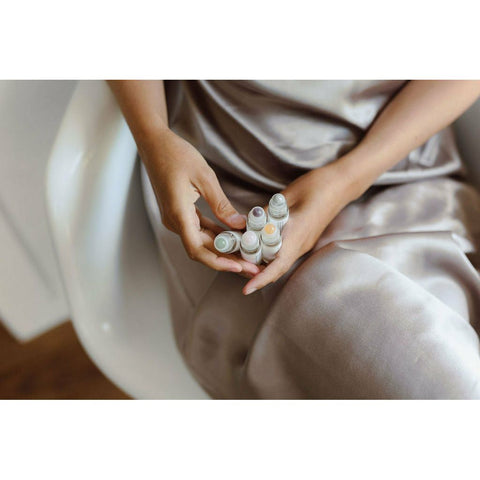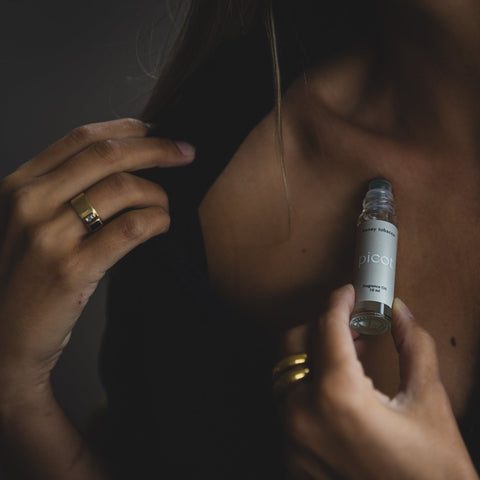 Honey Tobacco Fragrance Roller
Checking local pickup availability
Show more
Our Honey Tobacco Fragrance Roller has 5 different natural stone rollerballs for you to choose from. Each represents a mind state essential to well-being. We all know that scent can evoke memory, so these natural stone rollerballs become a tool for mindfulness with our Honey Tobacco scent.
Scent Strength: 2/5
Lighter than the Mist, Body Butter and eau de parfum
Doesn't over-power a room
Scented for you and whoever you hold close
Ingredients:
Our Honey Tobacco Rollers are handmade in Canada with our custom, non-toxic fragrance, and fractionated coconut (MCT) oil.

Lifespan:
A little goes a long way with this 10ml roll-on fragrance oil. You can expect this roller to last 8-16 months!
White Howlite: 

represents

stillness, tenderness, and an open mind

.

 

Use it as a reminder to reduce stress and anger; a means of tempering a storm and allowing for patience 

and perspective to lead

Rose Quartz: 

represents compassion, nourishment, forgiveness + peace.

Remember: relieving stress, grief, comparison, and other difficult emotions helps to create space for loving yourself and others

Green Aventurine: 

can remind 

you to move through life's changes with confidence and trust. Remember: freeing up stuck energy and shifting forward with clarity is integral to personal growth
Orange Calcite: 

a reminder to bring vitality to your passions. By inviting joy and creativity, healing will follow.

Leave behind what no longer serves you and move forward with playfulness & confidence

Amethyst: a reminder to bring a sense of calm and clarity to your life.

Consider it a tool for mindfulness: tap into your intuition and reveal your own insightful solutions to roadblocks

 

and changing perspective
My favorite purchase, absolutely love this scent
Delicious!
Love this scent! And choice of crystal roller ball is a great way to personalize it.
Addicted to the scent
I love the scent! Of all the perfume that I have, this is my favourite!
Roller review
As with all the products …a big thumbs up
This stuff smells amazing. Giving as gifts and everyone loves it!
Everyday fav.
I loved the candle scent so why not bring that along with me everywhere I go. I adore this little roll on and the crystal topper is a really nice touch.
Amazing!
I absolutely love this scent. It's so delicious.
Love it!
Very cute gem and addictive scent
Fragrance on the go!
How nice is it to be able to enjoy the amazing scent of Honey Tobacco wherever I go? I keep it in my purse for a quick pick me up to feeling fresh! My favourite all-time scent whenever and wherever! Love it!
LOVE!
This is the perfect scent. Some days it smells more sweet on my skin, and some days it smells more smokey and delicious. I just absolutely love the way it smells. Thank you for creating this amazing roller!!!