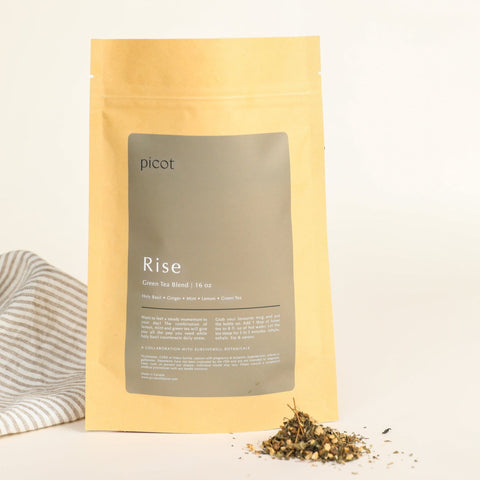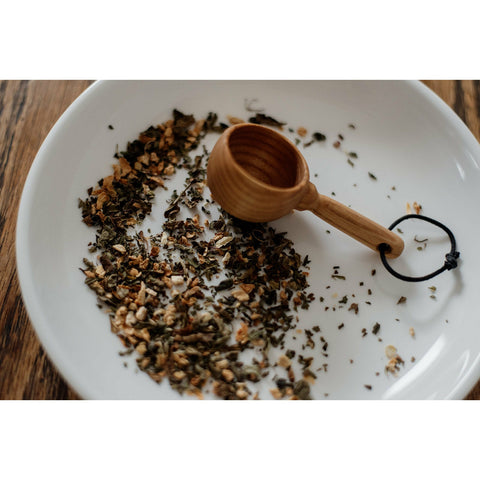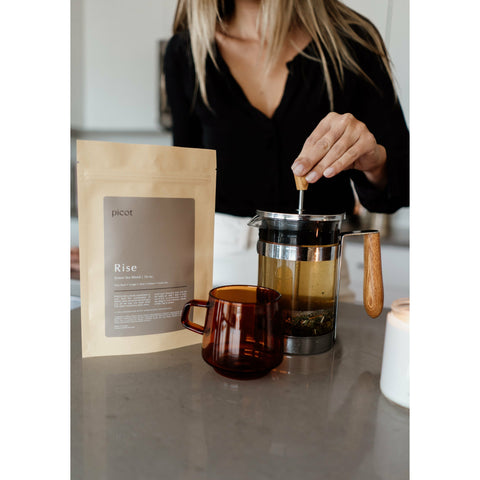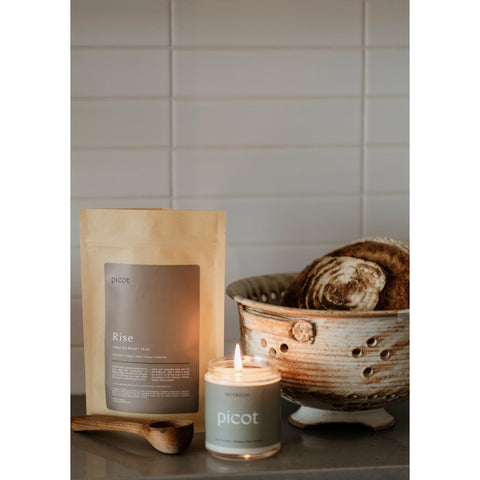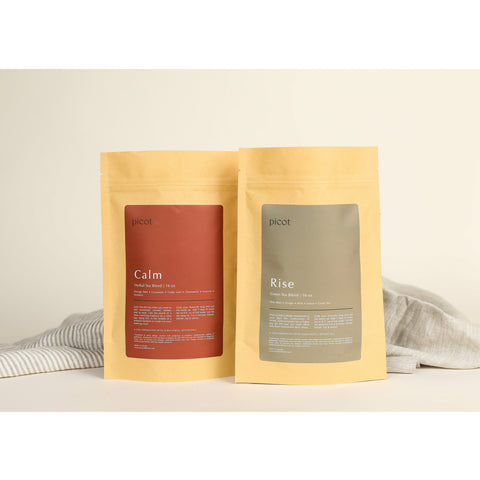 Rise: Green Tea Blend
Checking local pickup availability
Show more
Our Rise Green Tea blend is the perfect alternative to coffee. Get the perks without the jitters, while enjoying the minty taste of ginger and lemon.

Want to feel a steady momentum in your day? The combination of lemon, mint, and green tea will give you all the pep you need while the adaptogen tulsi (holy basil) counteracts daily stress. Grab your favorite mug and put the kettle on. Add this to your morning routine and/or around 2 or 3 pm when your energy begins to wane. Inhale, exhale. Sip & Savour
  - 16oz - Makes about 35 tbsp of tea
Tastes like:
refreshing mint, lemon and subtle hint of ginger
Ingredients: 
holy basil - Ocimum sanctum
ginger - Zingiber officinale
mint - Mentha piperita
lemon - Citrus limon
green tea - Camellia sinensis
* caution with gallstones, GERD or hiatus hernia. Statements have not been evaluated by the FDA and are not intended to diagnose, treat, cure, or prevent any disease. Individual results may vary, please consult a competent medical practitioner with any health concerns. 
Blended for us by Survivewell Teas in Sooke, BC

LOVE
Switching from coffee to the Rise tea in the morning has been such a game-changer for me. I have an essential tremor, and I've noticed I can drink this without getting as shakey as I would after a cuppa joe :) Not to mention, the flavour is SO lovely!
Scrumptious and refreshing
This tea is a bright infusion for the morning. A real delight to enjoy. I love a good mint tea, and this one will rev you up and chill you out with the holy basil, green and ginger.
No title
This is a Christmas present so I cannot review yet. Thanks
Delish!
Just the right amount of ginger and mint. I look forward to it every afternoon.
delicious and refreshing with a great boost of energy in the morning
Infusion
I want to drink it all and not infuse it into the Vodka, lol but im excited to use it in a video this week for #acocktailaday. Thanks so much for your support
Love these products!
Delicious tea and lovely candle, can't wait to share with clients, friends and family!
Delicious tea!
I love this green tea blend with a hint of basil - so different and refreshing.
Such simple elegant packaging.
While I have yet to indulge in the tea itself, it fit perfectly w/ my want to create simple rituals for myself - even on days I'm stuck in a cubicle. The packaging is gorgeous and simple, and the aroma that came from opening it on arrival confirmed that this tea is going to fit with my desire to create simple ways to honour the everyday.