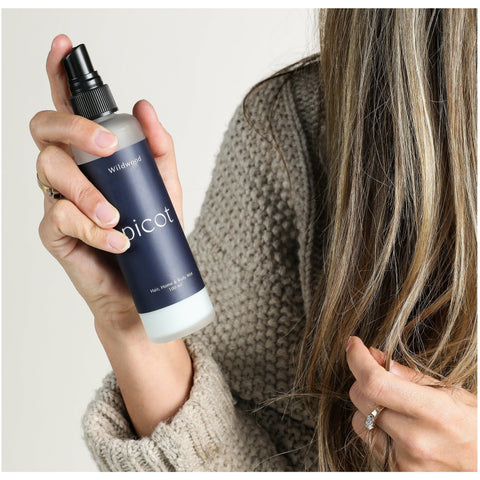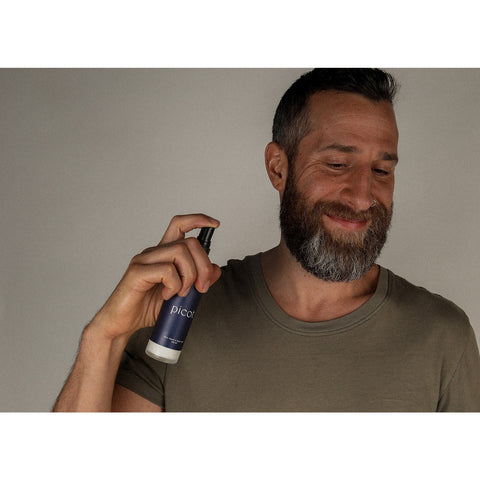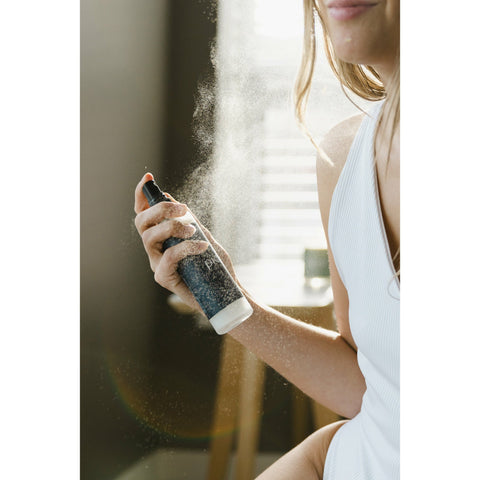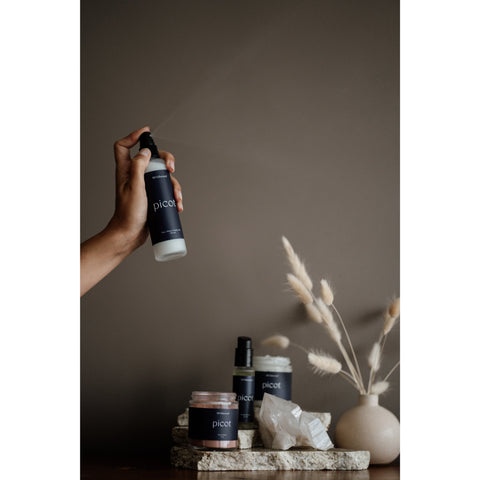 Wildwood Mist | Hair, Home & Body
Checking local pickup availability
Show more
You think you've smelled everything woodsy before, but not like this. Inspired by the lush woods in BC, refined for the allure of a personal scent that is musky and woodsy without being overpowering. Blue tansy adds brightness and an un-detectable hint of turmeric adds depth to round it off with fir, black spruce, vetiver, and ho wood.
Smells
predominately woodsy which typically gets associated with "masculine", but we firmly believe this is a gender-neutral scent. Your natural oils will allow it to shift and evolve, personalizing it just for you. 
Our favourite ways to enjoy it:

- Spritz to invigorate your steamy shower and breathe in deeply
- Mist over the linens in your bedroom
- Keep at your front entry-way to invite a calm and alluring scent into your home
- Mist in your hair to bring out a natural wave and distribute a subtle scent
- Keep it in your gym bag to freshen up on the go
Ingredients: distilled water, polysorbate 20 (coconut-based). Essential
oils: benzoin, black spruce, ho wood, fir, blue tansy, turmeric CO2, vetiver,

Specifications: 100 ml, frosted glass bottle with black lid

I took my first spray and I love the scent. It smells inviting and I'll be purchasing more. It's so versatile in how it can be used. A body spray, hair spray for a nice scent after styling, or freshen up a room. The products themselves are well packaged and aesthetically pleasing too.
Very light smell
I love the smell of this but it dissipates quickly. I wish I would have ordered the Honey Tobacco instead.
Have always loved Honey Tobacco in a fragrance. Decided to try Wildwood and it is amazing too. Two new favourites! I purchased the room mister in both and love them!!! Thank you.
Lovely unisex fragrance
This is a very approachable scent, I wish it came in the perfume format so it could last longer. It's somewhat similar to Honey Tobacco but less warm, more suitable for summer probably. It smells like a walk in a fir or cedar forest. It's lovely, I use it daily. It stays very close to skin.
Love love love wildwood
Amazing scent. First tried it in diffuser form and immediately thought… I need more! I want to smell like this. Love that it is available as a mist and hoping to not only see it as a roller, but also maybe, just maybe, as a perfume?! One that lasts all day long would be greatly appreciated :)
"transporting" wildwood hair/home/body spray
i love it. close your eyes and inhale and you are in the forest. it is delicate and yet layered. i wish the scent it would last longer in the room.
Use this in the shower!
I keep this in my bathroom and love to use it in the shower with the steam!!
Absolutely love everything I ordered.
I love all the fragrances. My favourite is the Honey Tobacco.
Lovely scent
Warm and earthy. Very happy with this product!
Smells like being out in the wilderness!
As soon as I first smelled this scent as a bath soak, I was hoping Picot would expand it into more products and I'm so happy they did! I've been spraying it in my office and it makes me feel like I'm outdoors getting fresh air. This will definitely be a repeat purchase!